Squad for Kuwait & Malaysia Friendlies Announced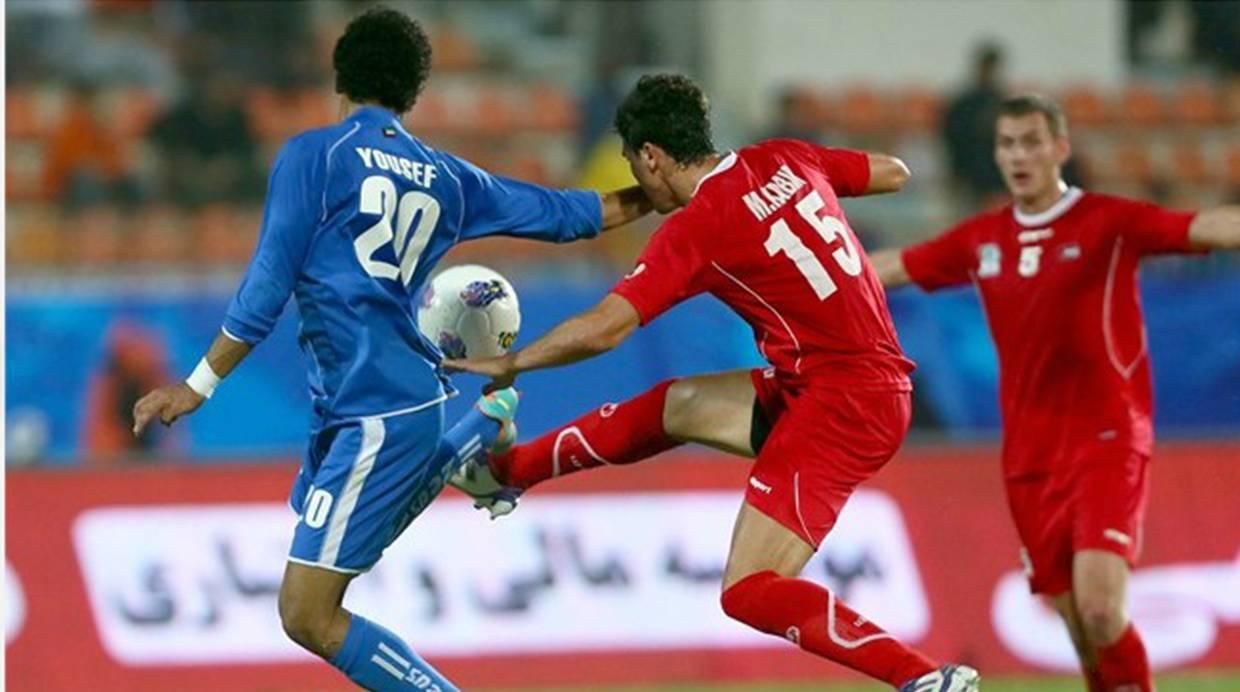 For the second time in three months: Kuwait vs. Palestine
National Team manager Jamal Mahmoud has unveiled a list of 24 players who will travel to face Kuwait and Malaysia in two upcoming friendlies this week. Amongst the players selected there are six who ply their trade abroad. Captain Ramzi Saleh will take his place in goal as he inches closer to becoming Palestine's first centurion, joining him are Abdelatif Bahdari, Daniel Kabir Mustafá, Imad Zatara, and the Al-Faisaly duo of Khader Yousef and Ashraf Nu'man.
Left back Alexis Norambuena was called up but withdrew after picking up an ankle injury in Jagiellonia Bialystok's 2-0 over Polonia Warszawa.
UPDATE: The Gaza-based triumvirate of Alaa Attieh, Fadi Jaber, and Houssam Wadi were not released by their clubs for these friendlies. Saudi-based Abdelatif Bahdari also was barred from traveling by Hajer. Daniel Mustafá did not make the trip and was replaced by Haitham Dheeb.
The complete list after the jump…
Goalkeepers
Ramzi Saleh
Club: Smouha FC
Position: Goalkeeper
Age: 32 (08/08/1980)
Appearances: 75 (0)
Toufic Ali
Club: Tarji Wadi Al-Nes
Age: 22 (08/11/1990)
Appearances: 12 (0)
Fadi Jaber
Club: Al-Jam'iya Al-Islamiya
Age: 23 (09/08/1990)
Appearances: None
Defenders
Abdelatif Bahdari
Club: Hajer FC
Age: 29 (20/02/1984)
Position: Center Back
Appearances: 19 (0)
Daniel Kabir Mustafá
Club: San Marcos
Age: 28 (02/08/1984)
Position: Centre Back
Appearances: 3 (0)
Hussam Abu Saleh
Club: Hilal Al-Quds
Position: Right Back
Age: 29 (14/02/1983)
Appearances: 33 (3)
Fayez Aslieh
Club: Shabab Al-Khaleel
Position: Wing Back
Age:
Appearances: 2 (0)
Nadim Barghouthi
Club: Shabab Al-Khaleel
Position: Center Back
Age: 23 (09/05/1989)
Appearances: 8
Raed Fares
Club: Hilal Al-Quds
Position: Left/Right Back
Age: 30 (06/12/1982)
Appearances: 17 (0)
Khaled Mahdi
Club: Al-Am'ary
Position: Center Back
Age: 25 (01/02/1987)
Appearances: 22 (0)
Ahmed Salameh
Club: Al-Am'ary
Position: Center/Right Back
Age: 23 (07/11/1989)
Appearances: 6 (0)
Midfielders:




Khader Yousef
Club: Al-Faisaly
Position: Midfield
Age: 28 (06/10/1984)
Appearances: 41 (0)
Imad Zatara
Club: Åtvidabergs FF
Position: Winger
Age: 28 (01/10/1984)
Appearances: 18 (2)
Abdelhamid Abuhabib
Club: Shabab Al-Khaleel
Position: Attacking Midfielder
Age: 23 (08/06/1989)
Appearances: 15 (2)
Mousa Abujazr
Club: Shabab Al-Khaleel
Position: Central Midfielder
Age: 25 (28/08/1987)
Appearances: 21 (1)
Adham Abu Rwais
Club: Merkaz Balata
Position: Midfielder
Age: ?
Appearances: 2 (0)
Murad Ismail
Club: Hilal Al-Quds
Position: Box-to-box Midfielder
Age: 30 (15/12/1982)
Appearances: 17 (0)
Suleiman Obeid
Club: Al-Am'ary
Position: Attacking Midfielder
Age: 28 (24/03/1984)
Appearances: 16 (2)
Mahmoud 'Al-Koori' Salah Sheikhqasem
Club: Al-Am'ary
Position: Holding Mid
Age: 19 (22/04/1993)
Appearances: 5 (0)
Houssam Wadi
Club: Ittihad Shajeaya (Gaza)
Position: Holding Midfielder
Age: 26 (25/08/1986)
Appearances: 23 (2)
Forwards:




Ashraf Nu'man
Club: Al-Faisaly
Age: 26 (29/07/1986)
Position: Wide Forward
Appearances: 32 (7)
Eyad Abugharqud
Club: Shabab Al-Khaleel
Position: Striker
Age: 24 (22/07/1988)
Appearances: 13 (2)
Alaa Attieh
Club: Ittihad Shajaeya (Gaza)
Position: Striker
Age: 22 (03/06/1990)
Appearances: 7 (1)
Khaled Salem
Club: Shabab Al-Dhahrieh
Position: Striker
Age: 23 (17/11/1989)
Appearances: 9 (0)