Rapid Reaction: Kuwait 2:1 Palestine (2012 WAFF Championship)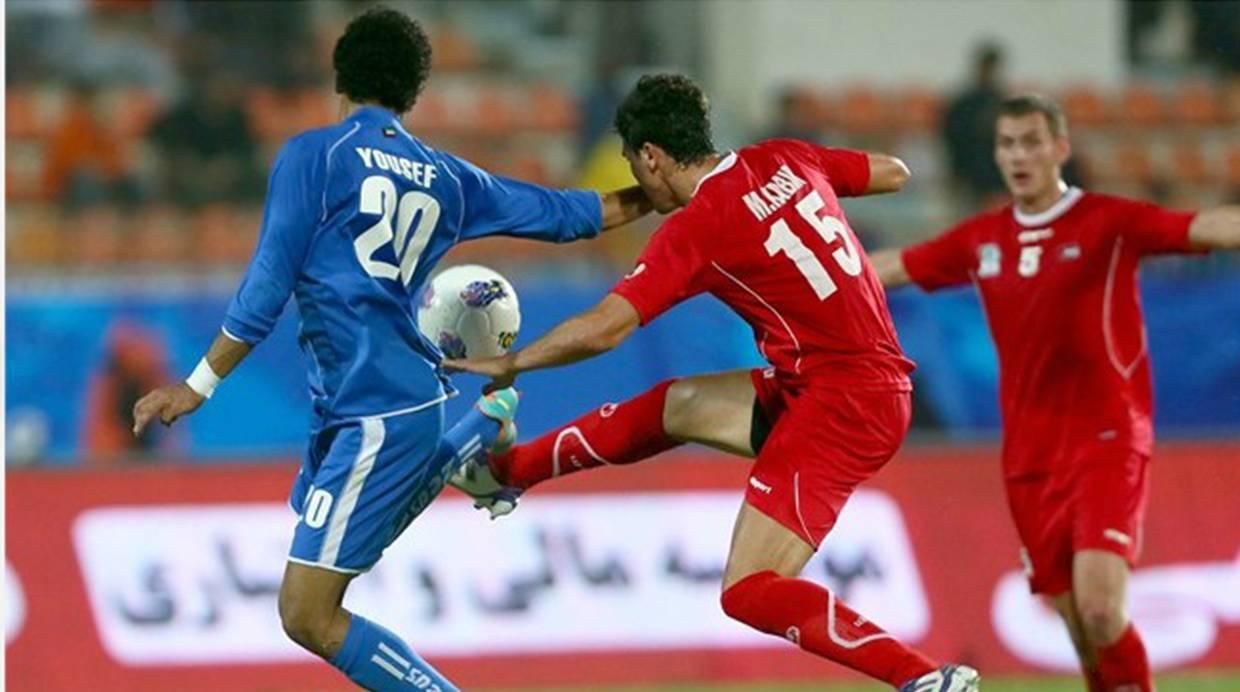 Yousef Nasser gets a helping hand for Kuwait's first goal




Palestine Starting XI (4-4-2): Saleh (C); Fares, Mustafá, Jarun, Abu Jazar; Abu Saleh, Khader Yousef, Kawre', Zatara; Abuhabib, Ashraf Nu'man


Highlights


Goals: Ashraf Nu'man 45′
Substitutions: Jarun <-> Mahdi 70′ // Abuhabib <-> Abugharqud 73′ // Khader Yousef <-> Al-Halman 90′->->->


Cautions: Jarun, Abu Saleh, Ramzi Saleh, Khader Yousef*
*(Was yellow carded twice although his first was incorrectly given to Abuhabib)

Recap: A horrific start to the match saw Palestine's left flank exploited repeatedly by Kuwait's speedy wingers. Kuwait's goals came from two refereeing errors, Youssef Nasser put Al-Azraq in front after handling the ball. A few minutes later, the same player went down inside the box under pressure from Jarun and won a penalty. Bader Al-Mutawa made no mistake from the spot to put Kuwait up 2-0 inside the first six minutes.
It would take Palestine a quarter of an hour to recover but Al-Fursan eventually settled; Imad Zatara would come close with a shot from outside the box in the 20th minute. Moments later a slick interchange down the middle between Abuhabib and Nu'man freed Abu Saleh on the right. Unfortunately, the Hilal Al-Quds man shot agonizingly wide choosing power over placement.
Up 2-0, Kuwait were happy to cede possession to Palestine but Al-Fursan were growing in confidence and eventually made their hosts pay. Just before halftime, Ashraf Nu'man launched a signature rocket from 35 yards out to cut the deficit. At 2-1, Palestine had a platform to launch an unexpected comeback.
Palestine would come close in the second half on multiple occasions. Abdelhamid Abuhabib forced a save from Nawaf Al-Khaldi in the 50th minute and Palestine won a slew of corners and free kicks that were not capitalized upon.
Refereeing: Questionable calls were the highlight of this match. In general, the referee was not consistent in his decision making. Kuwait were awarded a penalty on a play with minimal contact but then did not whistle for similar or harsher fouls throughout the game. More specifically, the opening goal, which was handled by Yousef Nasser, will leave Palestine feeling especially aggrieved.
In the first half, a ball deflected off of a Kuwaiti defender had Ashraf Nu'man through on goal but was wrongly pulled back for offsides.
Musa Abu Jazar was fouled and then pushed to the ground by Abdelhadi Khamis but was only punished with a yellow card. Ramzi Saleh who had tried to calm the Kuwaiti youngster was also given a yellow card. Khader Yousef was given a yellow card for playing the whistle and trying to kick a ball a Kuwaiti player had landed on. It was his second yellow of the game but somehow he stayed on the pitch.
In response to Ali Al-Qaisi's poor performance, national team spokesman Abudllah Al-Fara has announced that Palestine will submit a formal complaint to the West Asian Football Federation.
What I liked: Palestine took a punch and responded well. After six minutes it looked like we could have a real rout on our hands instead Palestine managed to settle and probe the Kuwaiti defence. This was always going to be the toughest game of the group stage and a one goal loss leaves Palestine with every chance at bouncing back.
What I didn't like: I fundamentally disagree with the decision to play Abu Jazar at left back. His performance against Bahrain was horrendous and he should have lost his place to youngster (and natural left back) Hani Naboulse. Given the decision to play two slower center backs the midfielders should have done better to take away Kuwait's long ball. Failure to do that allowed Kuwait to thrive on the counter attack.
Offensively, execution on set pieces (and Palestine had many of them) was especially poor and cost Palestine an opportunity to equalize late on.
Man of the Match: Officially, it's handball superstar Youssef Nasser but for me it has to go to Ashraf Nu'man. His goal was brilliant and he won countless free kicks and corners.
What's Next: Palestine face Lebanon on Tuesday, December 11th at 16.30 GMT. The Cedars registered a 1-0 victory over Oman earlier today.