A week of exits explained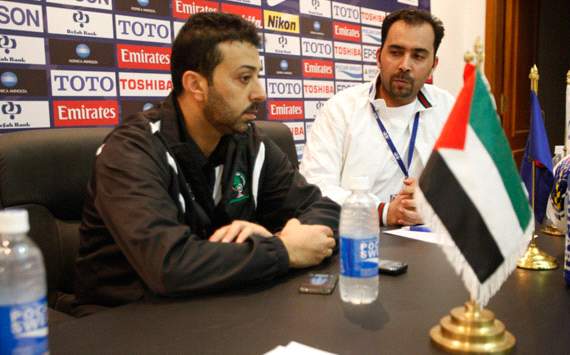 Jamal Mahmoud will have a lot of information to chew on ahead of the Challenge Cup
Last week saw three Palestinian teams competing in continental play. While none of the competitions really qualified as headline grabbing or particularly important; they provided an important measuring stick for the state of Palestinian football.
First up was the Olympic Team boosted by three overaged players in Ashraf Nu'man, Musa Abujazar, and Khaled Mahdi. The objective in participating in the Islamic Solidarity Games surely must have been to identify fringe players who could participate to the full national team. Despite an extensive training camp, the team stumbled out of the gates against Morocco, and although the scoreline was 1-1 at one point, it really belied the actual events on the field.
Palestine were discombobulated and confused. They found it difficult to keep possession and were often hoofing the ball to safety as a group of U20 players continually put them to the sword. The 3-1 scoreline was kind to Palestine and a 2-1 win against Indonesia in the next game meant they only missed out on the group stage by virtue of goal difference.
These results combined with the U16 team's woeful performance at the 2014 AFC Championship qualifying stage should serve as evidence that something is very wrong within the PFA. There simply has been zero progress since re-admission to FIFA in 1998 when it comes to grassroots football. Palestine has too much talent to put out a team that loses 9-0 to Uzbekistan at any level. A lack of resources will be used as an excuse, but FIFA pumps a lot of money into Palestine and FC Barcelona visited over the summer with the express intent of helping development.
The PFA lacks a real game plan. Losing at youth level isn't necessarily a bad thing but there needs to be a takeaway from these setbacks. If younger players lose but learn how to play the game correctly then the senior team will benefit. If teams are indoctrinated into a single style of play it makes it easier for talent to make that difficult jump from youth level to the full national team. Neither of these things is happening right now and this lack of development will continue to hamper the national team.
At senior level, Hilal Al-Quds needed only a draw against KRL after beating Dordoi Bishkek 3-2 to advance to the President's Cup final. The Jerusalemites conceded two late goals and bowed out of the competition. While you could chalk that up to bad luck, the simple fact of the matter is Palestinian teams will always be vulnerable to upsets by weaker teams because they lack a good base of fundamentals to complement their talent.
Jamal Mahmoud has been able to mask these weaknesses precisely because he stresses the fundamentals. To his credit, the good run of results in the past year have made some forget about these problems- but they are still there and could rear their ugly heads at any moment (they did in the August friendly against Jordan).
Palestine could very well win the AFC Challenge Cup in May and qualify for the Asian Cup as a result. If that is to happen, the team will have a very small margin for error, against opponents big and small.