Palestine to face Jordan in August Friendly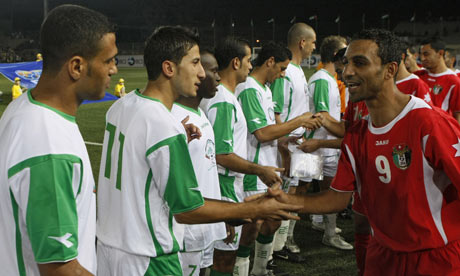 After some mumblings over various social networks a friendly between Jordan and Palestine has been confirmed by the JFA on their official website. The match is slated for Tuesday, August 6th and will take place at the King Abdullah II Stadium in Amman; kickoff is set for 2100 GMT.
No additional friendlies have been announced by the PFA with the official FIFA date of August 14th still open. The possibility of arranging a friendly with Libya could present itself as they will also be playing Jordan in a friendly that week.
Ramzi Saleh is expected to captain the side for this friendly, making his first appearance for the national team since December. Not expected to be called up are Alexis Norambuena (Jagiellonia Bialystok/POL), Daniel Kabir Mustafá (San Marcos/CHI), and Imad Zatara (Åtvidabergs FF//SWE) as they are both currently playing for their respective clubs in their domestic league competitions.
Previous Meetings
Over the past decade, Palestine has been able to match Jordan pretty well on the pitch. The last three official encounters ended in draws and in each game Palestine took an early lead. The exception to this rule was the 2011 Pan Arab Games encounter which marked Jamal Mahmoud's first competitive game in charge of the national team. The reason it doesn't appear above is because Jordan didn't want to risk losing ground in the FIFA rankings ahead of the 4th round World Cup qualifying draw.
In that game, Palestine were horribly exposed on set pieces and also were on the wrong end of refereeing decisions that saw them concede a penalty and have a man sent off. The game ended 4-1 to the Nashama but was a pivotal turning point for the national team. Palestine went on to advance from its groups with a 1-1 draw over Libya and 2-0 win over Sudan proving to be just enough to get them through.
Since then Palestine have recorded their best ever finish at an AFC Challenge Cup, won their first match at a WAFF Championship, and have made several strides in closing the gap between themselves and the footballing powers that be in Asia.
Hossam Hassan


Before the Jamal Mahmoud appointment it seemed almost certain that Hossam Hassan would be tapped as the successor to Mousa Bezaz. In fact, several outlets had reported that an official offer had been made to the former Egypt striker, so it's only fitting that his first match would be against the side he came so close to managing.
The appointment of Hassan has been met with trepidation. Unlike Adnan Hamed, his predecessor, he doesn't a wealth of managerial experience. Before taking his present post, he was manager of Misr Lel Maqasah a side that was in the relegation zone before the cancellation of the Egyptian league. This wasn't his only experience with cellar-dwellers as he saved Al-Masry from relegation in 2008 and almost did the same for Telecom Egypt the following season.
Having earned the reputation of a crisis manager he was appointed as Zamalek manager in the middle of the 2009/10 season and in the final 12 games of the season took the team from 13th to second place, winning 31 out of a possible 36 points. Before the temporary suspension of the league in 2011, Zamalek were in first (9W 5D 1L) but upon the resumption of the league, Zamalek went on a massive winless streak that saw Al-Ahly pip them for the title.
Despite the long-term plan touted by the Jordanian FA this seems to be a short-term appointment. Hassan's job will be to guide them through the tricky two-legged encounter with Uzbekistan and to an improbable World Cup berth. If he fails to do so, he'll probably be given an opportunity to redeem himself in Asian Cup qualifying but I would be shocked if he is still at the helm after Australia 2015.