Preview: Palestine vs. Lebanon (2012 WAFF Championship)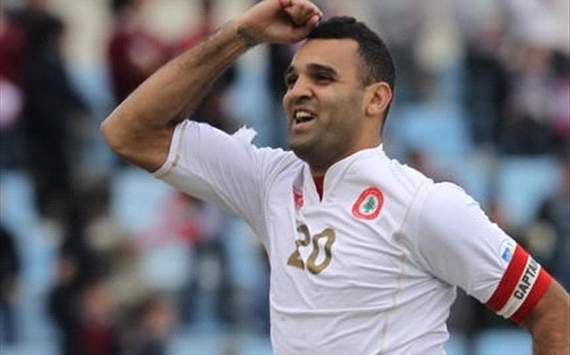 Roda Antar: Lebanon's Captain
What: 2012 WAFF Championship (Group Stage)


When: Tuesday, December 11th, 2012


Where: Peace & Friendship Stadium, Kuwait City


Kickoff: 16.30 GMT
TV: Al-Jazeera Sport (Global), Jordan Sport, Kuwait Sport, Abu Dhabi Sport 1
Streams: Stream 1 // Stream 2
Previous Results:
Bookings:
Palestine: Abdelhamid Abuhabib, Husam Abu Saleh, Omar Jarun, Ramzi Saleh, Khader Yousef, & Imad Zatara


Lebanon: Nour Mansour, Walid Ismail, & Mohammed Haidar (Suspended)


Tactical Revision


During his 13 months in charge, Jamal Mahmoud has shown a knack for ironing out and/or disguising weaknesses in his teams. Defensively, Palestine were exposed numerous times by the speedy Kuwaiti forwards and were saved by Ramzi Saleh on at least half a dozen occasions. Going forward, Palestine looked strong, able to retain the ball for long periods of time and easily winning set piece opportunities.
So what needs to change against Lebanon? The personnel or the tactics used?
Possible Palestine Starting XI
Palestine played with a high line against Kuwait and it is hard to see a progressive manager such as Jamal Mahmoud set his side up to play deeper going forward. The mentality that Mahmoud has strived to get across is that Palestine should be comfortable holding the ball and spraying it around in the opposing half. Balancing defensive duties with this attacking style has been a problem for Mahmoud mostly because he hasn't been able to rely on a centre back pairing from game to game. As a result, the tactic of using a high line and offsides trap (Palestine played with a flat back four) failed due to a lack of defensive cohesiveness and communication.
Abu Jazar's performance on the left flank did not help but every member of that back line committed his share of errors. One can only hope they'll be stronger as a unit after this baptism by fire.
Making matters worse was the fact that Kawre' and Khader Yousef were unable to stamp their authority on this game. The midfield duo needed to play an active roll in taking away Kuwait's ball over the top and they failed miserably.
Palestine will be without captain Ramzi Saleh who has been ordered back to training camp by Smouha but will fly back to join the team for the game against Oman. Toufic Ali has been Jamal Mahmoud's favoured number two since February and despite the form of Mohammed Shbair at club level, a change would come as a big surprise.
Alexis Norambuena is a lock to start at left back which will give Musa Abu Jazar an opportunity to play his best football in his natural position. There is speculation that Omar Jarun could be dropped in favor of the speedier Khaled Mahdi but the rest of the starting eleven should remain the same.
Lebanon Synopsis



Possible Lebanon Starting XI
There is not a lot of information to go on regarding how the two teams match up. The Cedars and Al-Fida'i have only met once at senior level in a match up that happened to be Palestine first as a (readmitted) member of FIFA. There are many similarities between the two sides- both have been given a new lease on life since their respective managers, Jamal Mahmoud & Theo Bücker, were hired. The men have commanded their sides to play without fear and their teams have become far more comfortable in possession as a result. Even their weaknesses are similar- when the teams faced Kuwait they were absolutely torn apart on the left flank and Al-Azraq had free reign to lob balls into the final third.
Since Bücker's arrival Lebanon has increasingly looked to their diaspora population to fill the ranks and the WAFF squad includes Abbas Hassan (former U19 Sweden international) and Adnan Haidar (former Norway U19 international). On the pitch, everything runs through talisman and captain Roda Antar and stopping him will be key to securing a win. Palestine will also have to be at their best on set pieces because Lebanon has shown a knack for capitalizing on them.
As for weaknesses, Lebanon are not the strongest defensively and the absence of Bilal Najarin and former FC Köln man Youssef Mohamad will not help the matter. Lebanon have also had trouble settling on a first choice goalkeeper with the chunky Ziad Al-Samad losing his spot to Abbas Hassan. The Cedars will also be short in attack after Mohammed Haidar got himself sent off for simulation against Oman; UAE-based Hassan Maatouk was not included in the squad.