Azerbaijani sour grapes make fine whine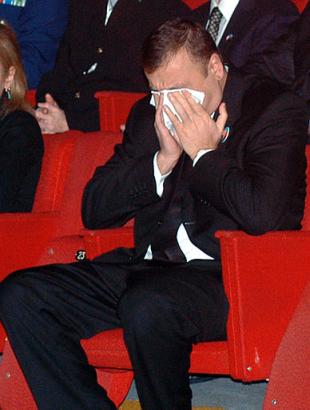 President of Azerbaijan Ilham Aliyev didn't take the loss too well.
From what I saw of yesterday's match it was a well-balanced affair that saw Palestine deservedly win. For whatever reason, most of the Azerbaijani contingent didn't see it that way.
"This was just a test match for me"
-Azerbaijan Manager Berti Vogts
"To lose is always unpleasant but I can say that the referee from the UAE of today's match does not know what football is. He broke our game.

…Palestine is not such a strong team to lose it. As I said, we should not relax and play every game seriously. The main goal for the Dubai gathering was to test the young players. And we made it."
"The national team of Palestine would [be a bottom six side] in the Azerbaijani Premier League. They are stronger than Singapore and India and we also played weaker today. Certainly, we were not to lose. Probably, it was a fatigue. After all, it is too much to play three matches in five days. If there was a big interval between the match against India and this match, it would have been easier. It was a friendly match and one should not say that this was the sensation"
Palestine a bottom six side in the 12-team Azerbaijani league? What does that say about the Azerbaijan national side? Well, five of their players decided to have a
drink and a smoke
during their time in Dubai and then one of them deemed this content appropriate for Facebook. Berti Vogts was so incensed that he made the players run drills until they begged him to stop. Nice one Berti!
It is quite evident that Azerbaijan looked at the FIFA standings and drew a conclusion that this would be an easy affair. They probably would have been better served if they looked at tape from the Pan-Arab Games. That said, Azerbaijan did not put out a reserve side- stalwarts Mahir Shukurov, Rashad Sadikhov, and Branimir Subasic all started the game.
I respect the Azerbaijan side- they can be a tough opponent especially on their own turf- but their lack of respect towards us is just plain insulting.