Preview: Palestine vs. Azerbaijan (Friendly)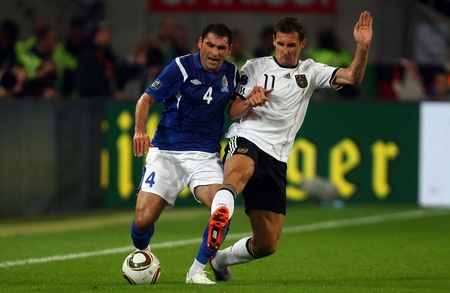 Mahir Shükürov (L)- an unlikely source of goals for the Azeris
What: International Friendly
When: February 29, 2012
Where: Dubai Sevens Stadium, UAE
Kickoff: 1330 GMT
TV/Stream: No Arabic Language Channel will televise the match.
Previous Meetings: None. This will be the first time Palestine faces a UEFA side since reentering FIFA in 1998.
Vogts's Youth movement:
The German manager has called up 14 players under the age of 25 in his squad of 26 players. Only one player- Aleksandr Çertoganov- is over the age of 30. Vogts led the Azeris to their best ever points haul during Euro 2012 qualifying and have proved a tough side to beat, especially at home. Their stint in Dubai has proved to be largely successful, with 5 goals in a draw and victory over
Singapore and India
, respectively. With their third game in five days coming up against Palestine expect Vogts to the eight previously uncapped players in the side.
New Additions: Houssam Wadi, Mohammed Samara, and Omar Jarun have all joined the side in the past week. Ramzi Saleh is expected to arrive today and he will most surely start and captain the side in what will be his 67th national team appearance.
Fixing the Defense: With Haitham Dheeb's availability now up in the air it will be critical for Mahmoud to find a way to get the best out of the defenders presently in camp. Centreback is a point of depth and strength for Al-Fursan but with Abdelatif Bahdari, Omar Jarun, Roberto Bishara, Mohammed Al-Masri, and now Haitham Dheeb not available for the Challenge Cup this will be a real test of depth. Khaled Mahdi is the most experienced of the group called up. His CV includes three starts during the Challenge Cup qualifiers and three appearances during World Cup Qualifying (mostly as a makeshift left back).
Going into this game Mahmoud will surely charge his team with three basic objectives:
Do not concede a goal in the first 20 minutes.
Do not concede a penalty.
Do not concede off a corner kick or free kick.
Many observers claimed the 3-0 loss to the UAE was the result of heavy legs after a long journey and the fact that the team only had one practice together. Palestine did show flashes of their ability and the scoreline was more than a little flattering for the Emiratis. That said, the teams weaknesses were laid to bare and they will need to be rectified if Palestine are to seriously contend for the Challenge Cup title.