So that Palestinian Athletes can travel freely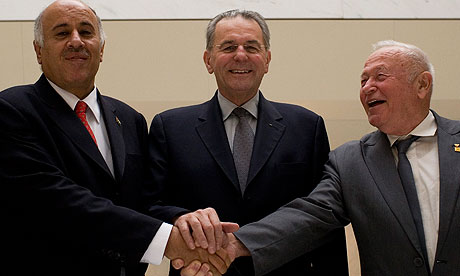 Let me preface this by saying I don't watch Tennis. Let me also say that we strive to keep politics out of this blog but sometimes they are impossible to ignore. During the Assault on Gaza in 2009, some of you might have heard that the UAE had refused entry to Israeli Tennis player Shahar Pe'er who was due to compete in the Dubai Open. In a bizarre twist, the authorities did allow her compatriot, Andy Ram, into the country. In the end there was an entire hullabaloo which ended with Andy Roddick (from my understanding an overrated player with an attractive wife) pulling out of the tournament in protest.
The mantra was that sport and politics should not mix. I happen to agree with that statement for the most part, but the reality is that the two do mix. And when they mix governing bodies tend to dole out fines and suspensions. FIFA has suspended Brunei, Nigeria, Iraq, and Peru in recent years. The world shunned South Africa during the Apartheid years and even went so far to shun the countries that agreed to play against them.
I could go on a long diatribe about how the same should be done to Israel.
But you know what, I am a man with modest requests. I want our athletes be allowed to travel freely, to compete. They shouldn't be subject to any sort of travel ban, because after all, sport and politics should not mix. Until Israel agrees to do this the outcry over Israeli athletes not being able to participate in one of dozens of Tennis competitions are facetious at best.
Players like Ma'ly Kawre' and Balatah starlet
Abdelhamid Abuhabeeb
have been refused travel permits more than once in the past six months. Gaza, a hotbed of footballing talent hasn't been able to contribute new players to the national team setup for nearly four years. The Gazans that do make it out end up not being able to travel back to Gaza to see their families. Suleiman Obeid's mother died this past October and he hadn't been able to see her for over a year due to travel restrictions. These are all incidents that occurred within the calendar year. If you want to go back a couple of years Israel has been responsible for canceling an Asian Cup qualifier and a World Cup qualifier with their travel restrictions. We couldn't compete in the AFC Challenge Cup in 2008 due to travel restrictions. The list goes on and on.
Pe'er was allowed to compete in the Dubai Open and the Qatar Open this year probably due to all the bad press it suffered in 2009. But it's hard to demand things from other Arab sporting bodies when your own is so intent on shooting itself in the foot.
Instead of bringing to light the problems our athletes face, FA and Olympic President Jibril Rajoub was busy schmoozing with his Israeli counterpart. In the midst of his athletes being refused travel by Israel, Rajoub gave Israel the perfect
PR opportunity
to whitewash its discriminatory policies. (note: All this was happening WHILE Palestinian athletes were being denied the right to travel).
For some reason the outside world thinks that Pe'er playing in Qatar or Dubai is seen as some step towards peace. Which is perhaps the most myopic observation in the history of mankind. How can an athlete be expected to bridge the divide when while she is lobbing tennis balls Israel is killing Palestinians with little or no recourse? How can this be a step towards positive, equitable, and normal relations between two people when the athlete is forced to hide out in her hotel room all day?
These sort of "sports brings people together" moments happen only AFTER peace and justice are secured. There are many examples: South Africa's 1995 Rugby Team, Germany's 1990 World Cup Team, and Vlade Divac (a Serb) visiting the grave of his former FYR Yugoslavia teammate Drazen Petrovic (a Croat) in the documentary
Once Brothers.
Until we get some sort of (real) peace and a delivery of justice then all these attempts at bringing people together through sport serve to distract from the problems at hand. Sport and politics may not mix in other parts of the world, but when you live under occupation, the politics are forced upon every facet of your life… including sport.